On June 9, we had four great sails with great people and very flukey winds.
On our 4:00 sail, we were sailing with a Sea Breeze in the Chesapeake Bay, meanwhile the other Woodwind, with Captain Ken (Woodwind II), was sailing in a breeze blowing down the Severn River. Truly amazing wind conditions out there. We had a couple of people aboard that were all getting ready to swim in the 4+ mile swim under the Bay Bridge spans. This one amazing lady, Sarah, has sailed with us for 6 years to pump her up for the swim. Each year she has finished- this year she was not looking forward to the water temp around 76 degrees.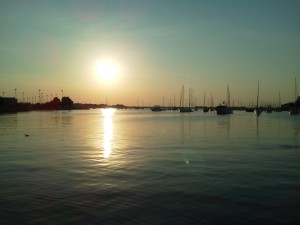 And then we got ready for the Boat and Breakfast aboard Woodwind, which comes with a sunset sail, accommodations aboard and a gourmet breakfast in the morning overlooking Annapolis Harbor. This weekend, all 3 couples knew each other and were visiting from Raritan, NJ. They all live in the same community and vacation together often. They loved the sunset sail and then headed to Pusser's to eat while the crew and I get the boat all pretty and cooled down for relaxation and sleeping. The air conditioning was put on immediately, it was a hot day (90s) and I wanted the rooms nice and cool when they came back. When they arrived back after a nice dinner, 3 or 4 wanted to relax on deck and look at the stars and watch the boat traffic go by. I quickly grabbed some stadium blankets and made pillows for them to rest on. I think they all fell asleep within a half an hour. By 11:30, they woke each other up and headed below decks.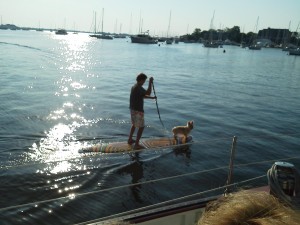 The morning is my favorite part of sleeping aboard the boat. Where we dock, at the Annapolis Waterfront Hotel docks, the first thing I hear are the birdies looking for crumbs on the deck. Then the swallows awaken and fly all around the boat and back to their nests. And then the sun rises, right over the water and the calm waters make a perfect reflection. By 6:20, a couple of sailors start rowing or motoring their inflatable dinghies into the dock with their dogs, all ready to relieve themselves (the dogs). They come back quickly with cups of fresh brewed coffee and pastries in their hands while balancing the dog and the oars or engine.
But my favorite are the newest phase, paddle boards. And today we were treated to a dog and owner on a paddle board together!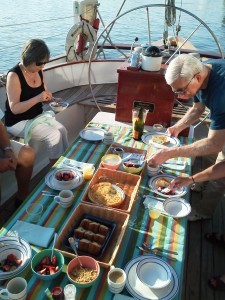 This morning, I missed my other favorite guest. Gil, older gentleman, who usually comes sailing by in his Hereshoff 12.5, rowing by in his dinghy or jogging by along the dock. All with his faithful companion Lilly, a very small Irish Setter.
And then the breakfast! Crab & Asparagus Quiche, fresh berries with yogurt and granola, and the best Apple Cake on the planet. Our couples opted for Mimosas this morning, it looked so yummy!
Join us on one of our Boat & Breakfasts! Cabins are filling up quickly. Call 410-263-1981 and read more about it here.