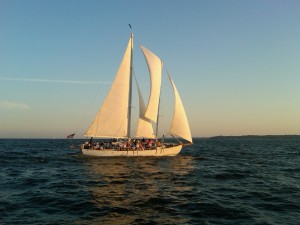 Today's sails were nice. We started out in very light wind having to motor back from our first sail to a building breeze that led to a great sunset. We had great groups all day.
On one of our trips we had a family reunion that came out to celebrate the life their father.
All our trips were almost fully booked. With such great weather this weekend everyone was coming out to go sailing and spend some time on  the water. We had lots of co-captains helping with the steering of the boat. It is always fun to have people drive that have not been out on boats before and see the thrill in their expressions. Seeing that always makes for a great day on the water. We look forward having more new people every day!