"My husband and I sailed with you on last Saturday evening's sunset cruise…we were with our dear friends who were celebrating their 25th anniversary. We all had such a wonderful time! Candidly, I was a bit apprehensive, having never sailed before and not knowing what to expect, but I will definitely be back! We all will. Thanks again, so much, for a wonderful adventure."
Marieanne H.
"We love sailing on the Woodwind and Woodwind II; It is part of our summer plans every year, especially when family comes from out of town. The crew is always fun and professional and each sailing is a new adventure!"
The Paulsons
Urbana, Maryland
Woodwind sails up to four times daily throughout our summer season from the Annapolis Waterfront Hotel. Each trip is unique. Let our captains and crew make your trip most enjoyable and memorable. Help hoist the sails (all 4 of them) or take a turn at the wheel.
On our cruises you will see:
United States Naval Academy
Annapolis Harbor
Chesapeake Bay
Scenic views of Annapolis skyline
Severn River
Depending on the wind direction and speed, you may see:
Chesapeake Bay Bridge (we may even go underneath)
Thomas Point Lighthouse
Kent Island
Regattas competing in the Bay
Ospreys and other local birds
Watermen checking their catch
The 74-foot schooner Woodwind and Woodwind II were custom designed and built specifically for sailing on the Chesapeake Bay. Woodwind is a replica of the classic, fast wooden schooners that were built as yachts in the early 1900s. Her handsome mahogany brightwork, gleaming chrome, and roomy cockpit distinguish her from cargo-carrying work vessels. Our bar is stocked with wine and beer, including a nice selection of local craft beer.
Have a group of up to 16 passengers?
You can get your tickets further in advance and be welcomed aboard first. Click here to learn about our group sailing packages on public cruises.
Weekday sunset sails include the following events or entertainment:

A guided tour exploring the history of the area, the Chesapeake, and the sights you see while on a sail. Each week we will focus on a specific interesting topic with a guest speaker aboard. Early May – September.

Sample while you sail! Each month we feature a different brewery from the Mid-Atlantic Region, and their representative comes aboard and teaches you about beer. 3 samples of beer come with the cruise, and then order full beers from the brews that you enjoyed the most.  Schedule of Breweries.

Join the crew and race Woodwind vs. Woodwind II every Wednesday night from April 27 through August 31. 100 other sailboats also race in the Wednesday Night Regatta. Wednesday's are the nights to Party Like A Sailor.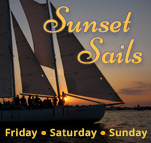 Thursday, Friday, Saturday, and Sunday
There is no specific entertainment on these days of the week. There is so much to see as we sail by the United States Naval Academy and into the Chesapeake Bay. Let the crew serve up your favorite beverage as you relax watching the sunset over the city skyline.