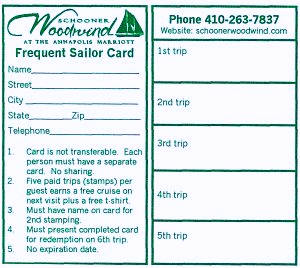 Frequent Sailor Card
Come sailing with us 5 times and your sixth sail is FREE plus a free "Crew" T-shirt- just like our crew wear!  At the end of your sail, the crew will hand out these "Frequent Sailor Cards". The crew will stamp your card with the date of each sail. They do not expire!  If you cannot wait for your free t-shirt, check out our Ship's Store for a wide selection of tees, sweatshirts and hats.  Please remember to bring your card everytime!
The FREE sail is a public, 2-hour cruise.
Redeeming your full frequent sailor card: You must book your ticket OVER THE PHONE. Our online ticket system cannot be used for this type of redemption.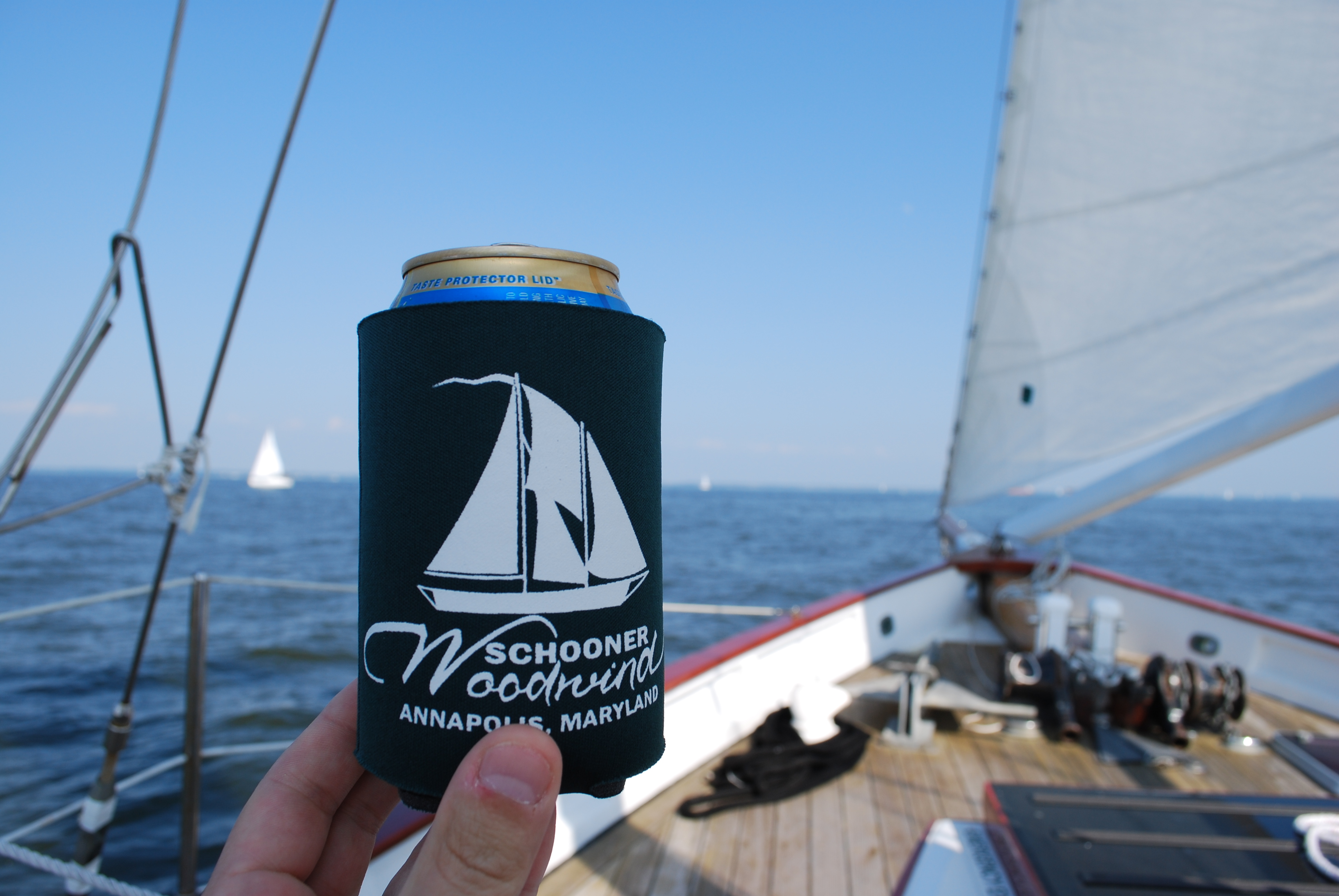 Schooner Woodwind Koozies
We know you like to keep your beer cold but your hand warm when sailing on the Woodwind. That is why we made Koozies available on your sail. But this isn't just any koozie… on the bottom, they say "Fill 'Er Up". And that's what we will do.
For $3, you can buy a Koozie aboard the Woodwinds, and keep your beer cold. When you sail with us every time after this cruise AND remember your koozie, we will fill your koozie with your first beer or wine of your choice for free. This is free beer or wine for life aboard the Schooner Woodwind when you remember your koozie! (Well, your first beer or wine on each cruise.)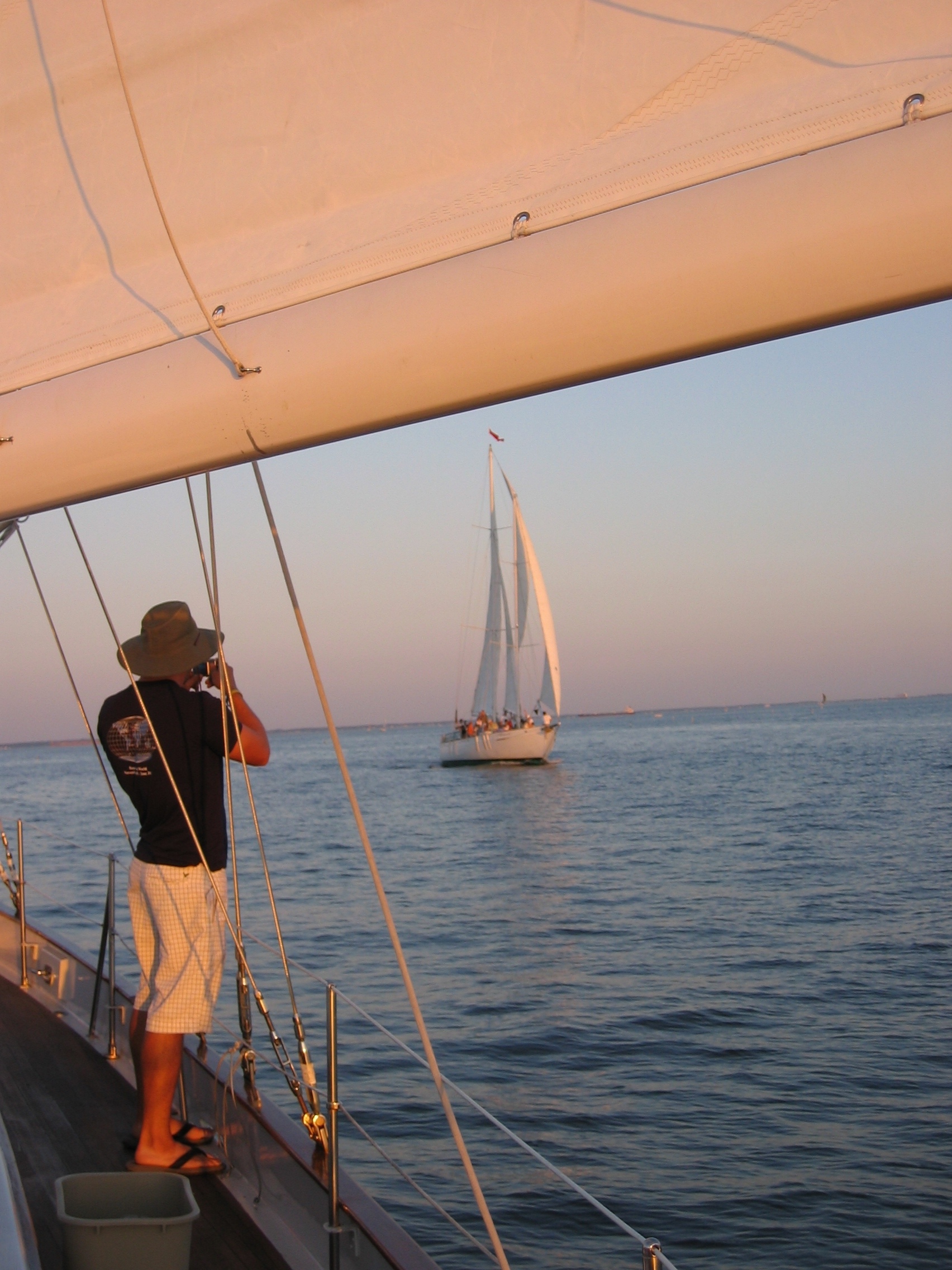 Do you have the winning photo?
Photo Contest
We love photos! Enter your favorite photos into our online photo contest! All eligible photos are taken either from Woodwind or Woodwind II. We love shots of passengers having fun aboard as well as action shots of the boats cruising the Bay. You can upload your photos directly to our website for entry into the contest. All rules are on our photo contest page. The Grand Prize winner will receive a $200 Gift Certificate for use during the following year.  Deadline is December 15.
Facebook Notifications of Specials
Facebook is the easiest platform for us to get in touch with our friends, fans, and all the people who love the Woodwind. Please "Like" our page, Annapolis Sailing Cruises: Schooner Woodwind. We post information like:
Reduced rates on certain cruises
Facebook only specials
First notice of new cruises added to our line-up of specialty cruises and events
Ticket updates (when we are getting low on tickets for our specialty cruises)
Awesome pictures from sailing on the Chesapeake
Play-by-Play Wednesday Night Racing Recaps
Email List
Sign up for our monthly email mailing list. We send you updates about what is new, what is upcoming, and other specials. Sign up here