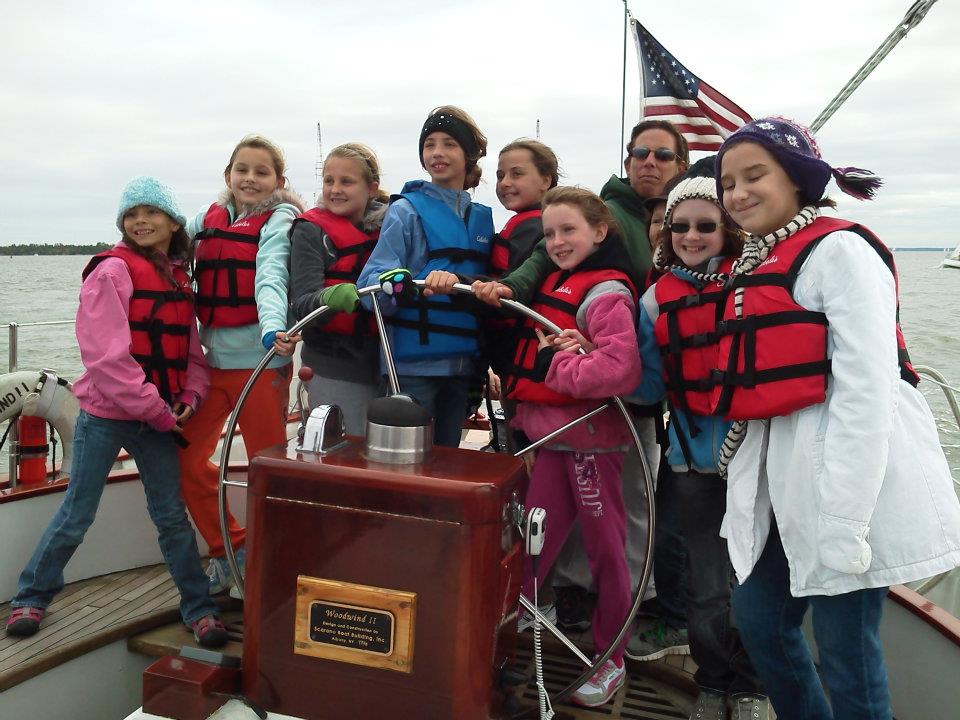 "Cadette Girl Scout Troop 5891 and 5859 of Ashburn, VA, had a fabulous time sailing aboard the Woodwind II! Not only did the girls learn the basics of sailing, our troop leader was able to check off an item off her bucket list!"
Joanne P.
Ashburn VA
"Thanks so much for a wonderful time on our recent Woodwind adventure! Our Girl Scout troop learned so much about sailing and the Moms had a ball. Your crew is amazing!"
Kim A.
Girl Scout Troop 1017
Intro to Sailing for Girl Scouts
Sailing cruise departs from Annapolis, Maryland and sails into the Chesapeake Bay.
Goal: To educate a mixed age group using an interactive approach about sailing in a relaxed environment. We will group the girls into teams of similar ages. Depending on the interest level and knowledge of the girls aboard, we will continue to explore topics that spark their interest.
Availability: All Girl Scout programs will be private events for up to 40 passengers.  If you do not have a large troop, this would be a great opportunity to work with other troops within your council to keep costs down per troop. 
During your two-hour cruise aboard the Schooner Woodwind, we take a very interactive approach to educating the girls about sailing. The crew educates by asking questions. This enables our crew to find out their level of interest and knowledge in a fun and interactive way while sharing fun facts.
Girls will be split into smaller groups (around 8 each)
Each smaller group will work directly with a crew member
Girls will cycle through the different learning topics
Curriculum:
Permission to Board: We will have the girls ask permission before they come aboard. We will tell them where to stow their belongings and what to expect aboard.
Staying Afloat: We have one of our crew demonstrate to the whole boat how to correctly put on a life jacket and adjust it for their size.
All Hands On Deck: During our safety speech, before we leave the dock, we discuss personal safety, what to do if someone falls overboard, if there is a fire aboard, and how to work the boat systems safely.
Basics of Sailing:
How does a sailboat move without an engine pushing it?
Why does the boat "lean" from one side to another?
What are the names of the sails?
What safety precautions do we have to think about?
What are other types of sailboats called?
Where does the water in the Chesapeake Bay come from?
What other terms mean aboard a sailing vessel?
Where did those names come from? Why is the bathroom called a head aboard a boat?
What lives in the water we are sailing in?
Steering the Schooner: Each girl will have a short chance to "helm" the boat.
There is so much to see as we sail past the United States Naval Academy into the Chesapeake Bay. Along the way, we point out the interesting sights to everyone aboard
Great info to give to the girls before their arrival: Parts of the Boat, Terms Used by Sailors
What to Wear: Since we sail rain or shine, bring gear so you are prepared for the conditions that are predicted ON the water – layered clothing and soft soled shoes.
Sailing Schedule:
Summer: Late May – August & October, Seven Days a Week
11:00 am – 1:00 pm, 1:30 pm – 3:30 pm, 4:00 pm – 6:00 pm, 6:30 pm – 8:30 pm
Spring & Fall: Mid-April – Mid-May & September, Seven Days a Week
10:00 am – 12:00 pm, 12:30 – 2:30 pm, 3:00 – 5:00 pm, 5:30 pm – 7:30 pm
Sailing Rates for Private Cruise:
Weekday Daytime:
2-25 passengers $2066.88
26-40 passengers $2429.02
Weekend trips:
All passengers (up to 40) $2892.01
We sail rain or shine. There are no refunds or exchanges unless the captain cancels the cruise due to unsafe conditions. "Rain Protection" can be added for an additional fee. This would allow you to cancel and reschedule within our guidelines.
According to the Girl Scout USA safety procedures, all girl scouts, adults, and other children aboard a cruise must be outfitted in life jackets. We have additional Type III life jackets that are more comfortable for non-emergency use.