Welcome Aboard our two beautiful, wooden 74-foot schooners, Woodwind and Woodwind II, for a true sailing experience in Annapolis, Maryland.
Sunset is a favorite time for a sail on the Woodwinds. The sunset over the Annapolis skyline is breathtaking. The golden glow reflecting off the sails as the sun descends near the horizon is an unforgettable sight.
Let our captain and crew make your trip an enjoyable and memorable experience.  Our bar is stocked with wine, beer and bubbly, including a nice selection of local, independent craft beers available for purchase.

History Mondays
A guided tour exploring the history of the Chesapeake area, and the sights you see while on a sail. Each week we will focus on a specific interesting topic with a guest speaker aboard. Early May – September.

Beer Tasting Tuesdays
Sample while you sail! Each month we feature a different brewery from the Chesapeake area. A representative from the brewery comes aboard and teaches you about beer. You will taste 3 samples of beer and then you can purchase full beers from the brews that you enjoyed the most. Early May through September. Schedule of Breweries.

Wednesday Night Races
Join the crew and race Woodwind vs. Woodwind II every Wednesday night from late April through late August.  There can be up to 100 other sailboats racing in the Wednesday Night Regatta sponsored by the Annapolis Yacht Club. Wednesday is the night to "Party Like A Sailor".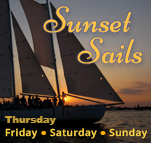 Thursday, Friday, Saturday, and Sunday
There is no specific entertainment on these days of the week. There is so much to see as we sail by the United States Naval Academy and into the Chesapeake Bay. Let the crew serve you that favorite beverage as you relax watching the sunset over the city skyline.