Woodwind and Woodwind II will be match racing every Wednesday night when there is an Annapolis Yacht Club (AYC) Race. Both boats will start on the AYC starting line at 6:45 pm, and then sail on a set racecourse.
2023 Wednesday Race Nights: April 26- August 30.
No racing on July 5.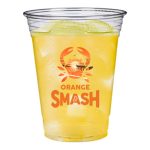 "Party Like A Sailor!"
Devil's Backbone from Rosedale, VA is partnering with us to offer you an Orange Smash Cocktail while enjoying a sailboat racing experience.
Aboard each Woodwind:
We will be serving Devil's Backbone Orange Smash cocktail ($7.00 each) along with all of our local craft beers, wine, and bubbly.
On each boat, one lucky raffle winner will receive a free promotional T-shirt
After the exciting race, you will receive a Devil's Backbone free drink voucher to be used at the Boatyard Bar & Grill a few short blocks away when you buy food. You can use it on Devil's Backbone Beer or Smashes.
While at the Boatyard Bar & Grill, watch the videos of that night's racing on the flat screens in the bar and restaurant. Enjoy the camaraderie of all the fellow racers that gather here as the sailor's place to be! Plus their food is great, too!
Tickets are $75.25 per person (the same price as our weekly sunset sails), and include a complimentary soft drink or bottled water. Tickets go on sale six days prior to the date you want to go sailing.

 For more information please read our Frequently Asked Questions here.