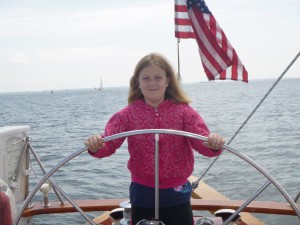 "Thank you for another great cruise for my senior campers. I thought that it would be unlikely that we would have another great sail like last year. This year's was even better. The campers loved hoisting the sail, the talk on Chesapeake wildlife, learning the parts of the ship and of course, steering the helm. We try very hard to provide great, unusual experiences for our campers. You and your crew really make it possible for us to do that."
Elinor S.
Hollin Hall Summer Day Camp
Student Groups
Annapolis is "America's Sailing Capital" in the heart of the Chesapeake Bay.
Book a private event for your student group on a fun 2-hour sailing tour of the Annapolis Harbor and the Chesapeake aboard a 74-foot classic, wooden schooner.
Availability: All student programs will be private events for up to 40 passengers.  
How We Teach: During your two-hour cruise aboard the Schooner Woodwind, we take a very interactive approach to educating the students about sailing.
The crew educates by asking questions. This enables our crew to find out the level of interest and knowledge in a fun and interactive way while sharing fun facts.
Students will be split into smaller groups (around 8 each)
Each smaller group will work directly with a crew member
Students will cycle through the different learning topics
When they get to the Captain, the captain will quiz them on their newfound knowledge.
Programs Available:
We have many different programs that we can do with your students depending on:
Number of students
Boating experience
Age group
School Curriculum
Topics include:
Teamwork
Terminology
Proper Lookout
Boating safety
Ecology of the Bay
Weather Awareness