Welcome Aboard
A true and interactive sailing experience in Annapolis, Maryland on two, fast and fun 74-foot wooden schooners, Woodwind and Woodwind II.
You will have the boat reserved just for your group, this is a private event. Our experienced captains and crew work with the scouts to learn about sailing and teamwork in a fun and educational atmosphere while sailing on the Chesapeake Bay. Each boat can accommodate up to 40 guests. 
Nautical Terms
Proper Lookout
Steer the Schooner
Boating Safety
We have developed a 2-hour sailing cruise where we train the scouts on different aspects of sailing, as we cruise past the United States Naval Academy and then out onto the Chesapeake Bay.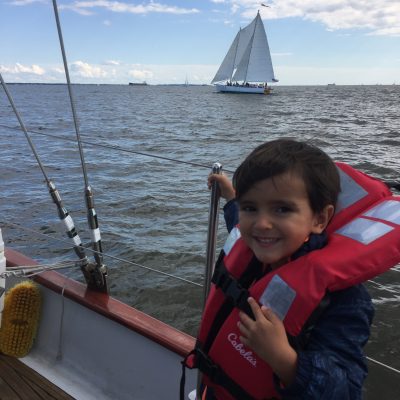 Boy Scout Programs
CUB SCOUTS (TIGER, WOLF, BEAR, ARROW OF LIGHT) will "Adventure" through "Boats & Knots" while sailing on the Chesapeake Bay
Learn about Safety at Sea and enjoy Hands-on Sailing while working towards the Small Boat Sailing merit badge
Sea Scouts will work towards the Small Boat Handler merit badge while learning about navigation and "Rules of the Road" aboard the Woodwind

"Cadette Girl Scout Troop 5891 and 5859 of Ashburn, VA, had a fabulous time sailing aboard the Woodwind II! Not only did the girls learn the basics of sailing, our troop leader was able to check off an item off her bucket list!"
Joanne P.
Ashburn VA
"Thanks so much for a wonderful time on our recent Woodwind adventure! Our Girl Scout troop learned so much about sailing and the Moms had a ball. Your crew is amazing!"
Kim A.
Girl Scout Troop 1017
Sailing Rates for Private Cruise:
Weekday Daytime:
2-25 passengers $2066.88
26-40 passengers $2429.02
Weekend trips:
All passengers (up to 40) $2892.01
We sail rain or shine. There are no refunds or exchanges unless the captain cancels the cruise due to unsafe conditions. "Rain Protection" can be added for an additional fee. This would allow you to cancel and reschedule within our guidelines.
According to the Girl Scout and Boy Scouts USA safety procedures,  all scouts, adults, and other children aboard a cruise must be outfitted in life jackets. We have additional Type III life jackets that are more comfortable for non-emergency use.