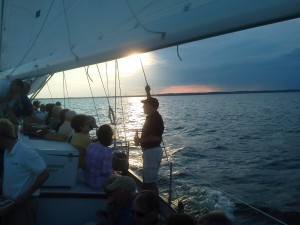 Today, the Schooner Woodwind was sailing on 2 private charters. The 2 charters could not be more different, one had 8 people with a fruit platter while the other maxed out the boat with 48 people and TONS of food.
The first sail was just delightful, 6-10 knots from the East. This group was a repeat customer and last year they said they were holding on for their lives, it was that exciting. This year, there was enough breeze for us to make it into the Chesapeake Bay. They were so excited to sail the boat and raise sails. I guess the wind was that strong last year, where there was not an option for them to do so. They relaxed, told stories and caught up with each other"s lives.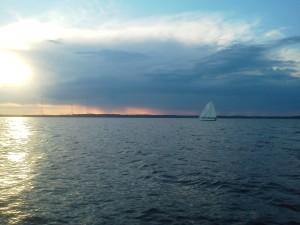 The second sail was a schmooze cruise is the best way to describe it. This company has chartered the boat twice a year for over 10 years and they thank all their clients by taking them on this sunset sail. It is always so terrific to see so many familiar faces and catch up. This year I tried a different tactic, I asked them "did you know" questions rather than giving the local tour speech.  Example… Did you know that the USNA was originally started on just 9 acres of land?  They were hooked into learning more about the area, even though they lived within a 15 minute radius. Great people! Many sailors took a turn at the helm and I love to hear them say, "this is such a responsive boat, I wish my 40-footer sailed this way!"
As we sailed out into the Chesapeake, we saw rain clouds approaching the Bay… but not coming quite towards us. You could see the shadow of where the rain was falling in the changing colors of the sun setting. It was amazing! And then the sun came from out of the clouds. Wow! Just gorgeous!