We no longer offer the Boat and Breakfast package, however, we still sail up to four times daily on fantastic cruises on the Chesapeake Bay!   Tickets go on sale six days prior to the date you want to sail.   Rates & Schedule
Come Sail Away with Us!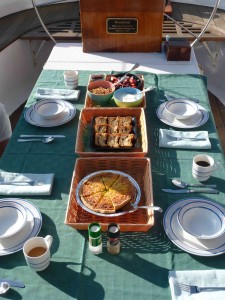 Enjoy a unique way to stay on the water in historic Annapolis, complete with accommodations aboard the schooner, a 2-hour sunset sail and a gourmet breakfast.
2019 cabins on sale now!
Boat & Breakfast Gift Cards make a perfect gift.
The Schooner Woodwind is a 74-foot sailing yacht that departs four times daily for two-hour sails. On Saturday evenings we offer a special Boat & Breakfast package to as many as four couples, from the first weekend in May to the last weekend in September.
"One of the 10 most unique places to stay in Maryland." –Good Morning America, 2002
"One of the top 29 things to do this summer in the South"-Southern Living Magazine
"Top 10 Sunset Sails" –Coastal Living Magazine
Woodwind was designed and built in 1993 to be a swift sailing yacht and to comfortably accommodate our overnight guests. We started the Boat & Breakfast in July of 1993, and have hosted hundreds of delighted guests on board.
Typical stay aboard the Woodwind Boat and Breakfast
Arrive at the boat around a half hour before the sunset sail, load your belongings onto the boat and listen to a brief orientation from the captain. The rest of the passengers sailing with you on this two-hour sail will board the boat around five minutes later, and the schooner leaves the dock at 6:30 pm promptly (5:30 pm- early May and Sept.) destined for a gorgeous two-hour sunset sail on the Chesapeake Bay. When the boat returns head into Annapolis or Eastport for dinner (we suggest you make dinner reservations for 8:00 or 9:00 pm depending on what time the sunset sail leaves as determined by the season) and plan on returning between 11:00 and midnight.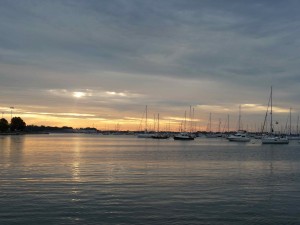 Between 8:00 and 9:00 am, enjoy a refreshing gourmet continental breakfast overlooking Annapolis Harbor. Breakfast consists of warm Bacon, Ham Caramelized Onion & Swiss Quiche, mini muffins, and our signature dish, "The Woodwind Parfait". This is a make-your-own layered masterpiece with vanilla Greek yogurt, berries, and house-made granola. Coffee, tea, and fresh orange juice are served with breakfast. (Champagne can be purchased to make mimosas, too.) Checkout time is at 9:30 am.
$323 per cabin, including all taxes (for 2 people)
To make reservations for our Boat & Breakfast package call 410-263-1981.
Rates & Policies for Boat & Breakfast Package
The Schooner Woodwind is located at the docks of the Annapolis Waterfront Hotel in downtown Annapolis.
The boat is within easy walking distance of the US Naval Academy, St. John's College, shopping and restaurants, and many historical sites.
The Interior of Woodwind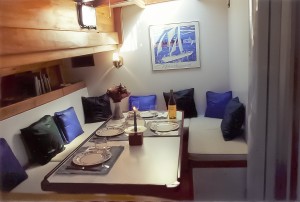 The layout of Woodwind has four private double staterooms (cabins) all with double sized berths. The guest cabins are all located in the separated forward cabin area accessible by a separate companionway (stairs). This area provides 2 heads with built in showers.
Each cabin has a complete set of sheets, blankets, pillows, towels and a reading light. All staterooms have opening ports (windows) and the two most forward cabins have opening hatches as well. There is a seat and hanging locker in each area with space for storing a soft duffel. All cabins have standing headroom for dressing. There is a galley (kitchen) for the captain to prepare breakfast and separate captain and crew quarters. The large dinette (down below) or the comfortable cockpit is perfect for eating breakfast.
Weather permitting, we serve breakfast outside overlooking Annapolis Harbor.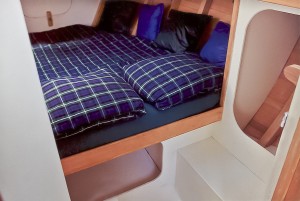 Forward Cabins– These two cabins feel the most spacious because there is a skylight (opening hatch) above your head. The double size beds are 6-feet long and slightly taper towards the feet in width. These are very sunny cabins in the morning.
Aft Cabins– These two cabins feel more cozy because the ceiling above the bed is lower than the forward cabins. These beds are 3 inches wider, 5 inches longer (6′ 5″ total) and the bed does not taper near the feet. Tall people should pick this cabin for bed length. These cabins feel more snug since there is no skylight above your head, just a small deck prism to let in some light.

We only sell 3 of the 4 forward cabins for our Boat & Breakfast.

$323 per cabin, including all taxes
(for 2 people)
Call 410-263-1981 to book your cabin.