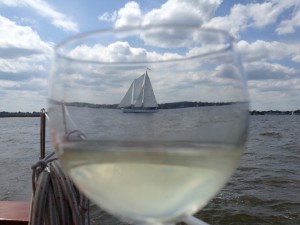 Today was all about wine. "Wine in the Wind" is the name of our wine tasting cruises aboard the Schooner Woodwind. The region for this month's tasting was Down Under Wines, New Zealand and Australia. Howard Dinkel from Bacchus Distributing was aboard to educate us about wines from this region and to explain about the growing techniques, the grapes and so much more. Howard was funny, as usual. Winds were blowing a mere 5-10 knots, but we were able to tack out of the Severn and into the middle of the Bay. Timing was perfect, we never had to turn the engine on other than docking. Such a relaxing day!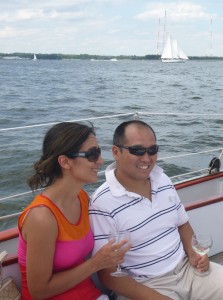 At the start of the cruise I encouraged guests to take pictures of the Wine in the Wind. We rarely get good photos of these cruises. One of the guests took my suggestion which was to get Woodwind in a glass. Thanks Mike, for sending this photo!
The first wine pairing was Australia's Verminto with a cold cucumber soup. He explained how this grape was originally planted all over Sardinia, but now Australia is having success with this grape varietal. Second pairing was a New Zealand Sauvignon Blanc with a spicy mango bbq shrimp. Howard described this wine as, "racey and aggressive". Many guests enjoyed this wine.
On to the red wines aboard, we had a Pinot Noir from New Zealand and a Shiraz from Australia. The Pinot was paired with an asparagus mushroom salad, and the Shiraz was paired with a lamb meatball. All guests loved these wines and the pairings.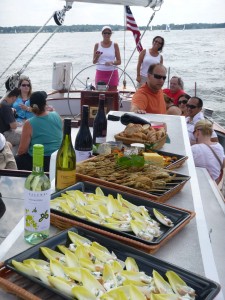 Very few took a turn at the helm. Everyone was so relaxed with the cooler temperatures and low humidity. Great afternoon.