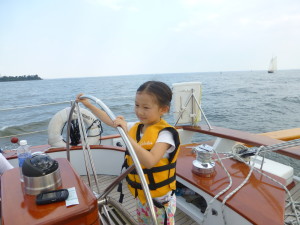 We had two cruises today and they were total opposites of each other. The first cruise was a girl scout cruise of mostly teen aged girls. They learned about sailing, navigation and the Chesapeake Bay ecosystem.
Each girl would go to all three stations where the crew would engage them in fun discussions and show & tell about these three areas. Afterwards, they would retain this knowledge and show the captain what they remembered. This would give them a couple of minutes of helming time. Some were lucky enough to tack and gybe the boat.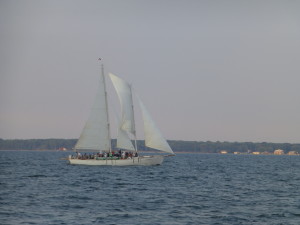 Part of the cruise is to tell us what the weather will be on the Bay for the time we are sailing. This shows them that we plan each trip separately and figure out the right sail plan and where we want to go based on the weather and wind direction. The forecast for wind was 5-10 knots out of the NNW. That's what we got.
On the last sail of the day, we had our "Wine in the Wind" Dinner Cruise with Old Westminster Winery. Drew Baker came to introduce his new winery to the 35 guests on the Woodwind II. This wine dinner sold out quickly. Here's what we had: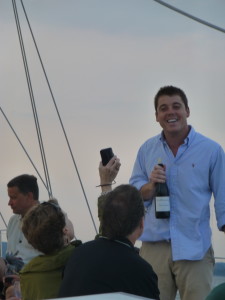 Bay Crab on Blackened Cous Cous Cake w/ avocado puree
2012 Sauvignon Blanc
Rockfish Pasta Salad with Lemon & Smoked Sea Salt
2012 Pine Grove Vineyard Chardonnay
Ginger Glazed Rare Bistro Beef on Julienned Sweet Potatoes & Red Beets
2011 Channery Hill Bordeaux-blend
Chocolate Layer Cake w/ Dark Chocolate Frosting w/ Berries
2011 Cornerstone Syrah/Merlot-blend
As we left the harbor and the first wine was poured, I saw people really surprised that the wine was THAT good.  And then the wind picked up, to around 15-20 knots. We sailed fast, over 10 knots, across the Bay to Kent Island. There was a cruise ship coming down the Bay as we were sailing across.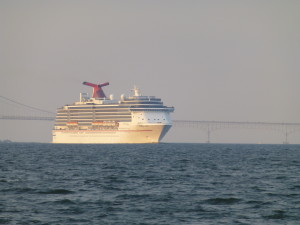 The wind was so surprising to all of us. Everyone aboard was amazed on how fast we were sailing with full wine glasses and amazing food!
One of my favorite sails of the year!