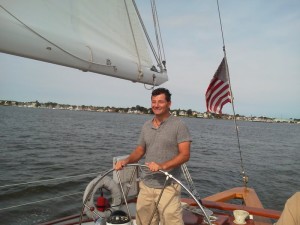 This may sound like a challenge to all of the other private charter groups  that have sailed on the boat, and all the ones that are upcoming, but it is not a challenge. It is a reflection of how nice people can be to their fellow employees, our crew and waitstaff at the restaurant they ate at.
This company outing is Choice Hotels, and this is their third annual event with us. Each year, Cliff tells us, they have a committee pick out what the outing choices will be and narrow it down to 3. Each year the employees have picked the Woodwind sailing to a Crabfeast at Cantler's Cruise.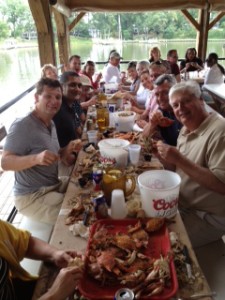 Cliff meets his group enthusiastically at the boat with donuts and coffee at least 45 minutes before the cruise is supposed to leave. He greets the crew, introduces himself and tells them to enjoy some donuts and coffee as well. He tells them that his group is so excited to do this cruise.
And when each employee comes to the dock, he has the sweetest smile to greet them. Even the one person who was late, he was all smiles and not a teasing word came out of his mouth.
And then we set sail, and they try to encourage all of the new employees to take a turn setting sails and steering the boat.  The guests who have sailed with me over the past three years ask me what fun adventures I have been on, and remember my stories from year to year. They engage with our crew and we engage back. Just like we are part of their family.
When we get to Cantler's Crab House, they invite us to eat crabs with them. They have us split up so they can get to know us. And they always warn us that we will get messy. Pieces of crab and Old Bay fly across the table. These folks are super genuine. Even when one of their folks didn't get corn, they don't get mad… (or even)… they ask one of their co-workers to try asking nicely, since maybe they need a new face to remind them that they would like some corn.
On the way back, some of the employees brought guitars, and they played a gig which was a great sing-along for all. I think the boss was playing one of the guitars and this woman had the best voice I have heard in awhile. All the employees sang along as one happy family.  They even asked us for requests!
It is this kind of attitude, company leadership, and hospitality driven core values that sets this charter group above the rest. We know we are in the hospitality business as well, and we try our very best to treat folks like family (it is one of our core values), it is so nice to get that kind of treatment back.
Thanks to Cliff and his crew from Choice Hotels! We can't wait for next year!