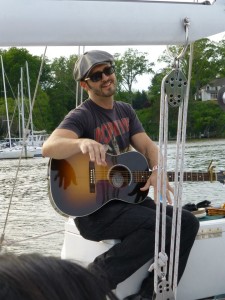 It has been over two and a half years that we have had Tony Lucca sing and perform on the Schooner Woodwind. A lot has happened since then, like he became the finalist on "The Voice" representing team Adam.  He also has a new CD coming out in June or July. Then he will get ready for his big tour with Maroon 5 and Kelly Clarkson.
When I got the call that he wanted to come for 2 back-to-back shows, I was ecstatic! We decided upon a sunset sail on Friday night and a brunch cruise on Saturday.
Friday's and Saturday's show started with his soon to be released single. He then played favorites and requests from the small, intimate audience. He also talked about "The Voice" and shared some very interesting insight into the show and the process. He played only a few covers and really stuck to his originals, which was what the crowd enjoyed.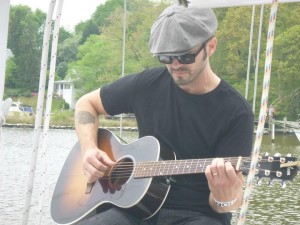 There were three things that amazed me… one was how far people came from to be on the Woodwind for these performances. We had folks from Alabama, Tennessee,  Virginia, New Jersey, New York and Pennsylvania. Many folks made an entire weekend in Annapolis  including attending the  Pat McGee/Matt Duke show at Ram's Head.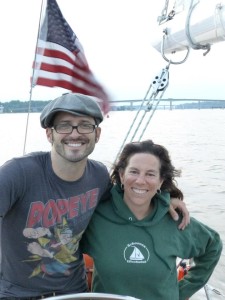 The second thing that amazed me was how great the music sounded. This was a totally acoustic show. The creek that we chose was nice and quiet, so the sound echoed beautifully. One couple commented to me that they felt so privileged to experience such a lovely 3 hours.
The other thing was how gracious and sincere Tony is. He is one of the most genuine people I have met. A truly wonderful person.
Both shows ended with a terrific, hour long sail back into the harbor under full sail. Tony sailed the boat in on the sunset sail, and help raised sails on the morning sail.
Keep a look out, we may be announcing more terrific talent coming soon. In the meantime, join us for Local Musician Night every Thursday on the Schooner Woodwind.