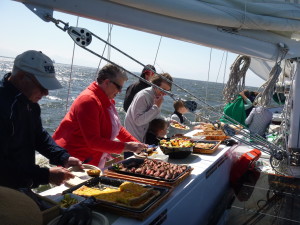 What a terrific Mother's Day. The wind was howling and the sky was absolutely clear. Terrific day for sailing! Having Mother's Day Brunch? Maybe the conditions were not ideal due to the high winds, but all of the guests had a terrific time and raved about the food. The salmon and beef were amazing, were the most noted comments.
We sailed both the 10:00 Brunch and the 1:30 Sail with a reefed main and just the jib. Many folks took the turn at the wheel, including a bunch of younger, super interested kids.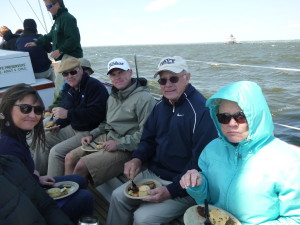 On the Brunch we managed to sail past Thomas Point Lighthouse and still make it back to the dock on time. We saw this big sloop sailing by, it must have been a 100-footer.
It was great having all the moms aboard and making their day extra special. Thanks for taking the helm and telling me the stories! I loved it!