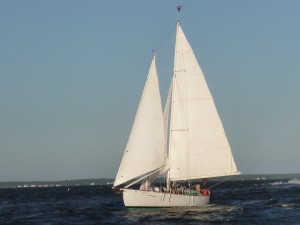 What a great way to spend the day. Bring your mom out for sailing and a nice brunch to boot. That is what everyone did yesterday.
We had awesome sailing all day with winds from 15 to gusts of 30 knots.
We sailed with only a reefed main and jib all day but the sailing  was still exciting.
Our 1st sail of the day was our Mother's Day Brunch sail and we were completely sold out. We sailed over to Kent Island under jib only till everyone was stuffed and then we hoisted the main and sailed up to the Bay Bridge. We had several frequent sailors out for the day. One was celebrating her birthday. Martina comes out several times a year and has a turn steering the boat each time.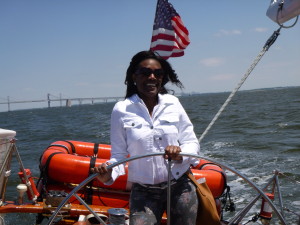 Happy Birthday Martina!!!
Our last 2 sails of the day were also exciting. We shook out one reef on the main and sailed with main and jib alone and were able to get under the bay bridge and back on both our 4:00 and 6: 30 sails.
We were treated to another spectacular Annapolis sunset on our way in from our last sail. My 1st of the season and looking forward to many more!!