This Friday, as Woodwind sailed back from her evening cruise,the crew spotted The Pride of Baltimore II.  We retrieved our 10 gauge signal cannon and bore down on the Pride.  Crew, Andy Barton waited until the perfect moment and fired.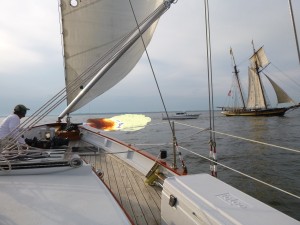 Firing a cannon (with blanks) is a traditional way to welcome ships into a harbor.  In fact before phones, firing a cannon when a ship came into the harbor, alerted the citizens that they had visitors, or packages.   Important visitors became known as big shots.
The Pride of Baltimore II is a replica of the fast vessels that were often referred to as  Baltimore Clippers.  They were built in the early 1800's and some saw service during the War of 1812.  Her website is http://www.pride2.org/.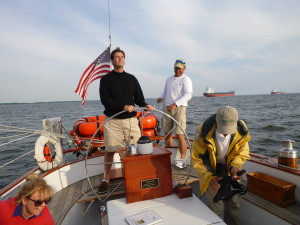 It was a lovely evening and everyone had a great time.