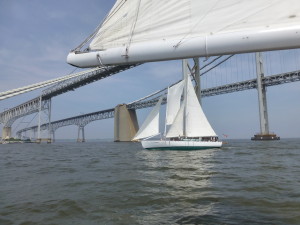 What a day!  The wind started blowing from the SE at 10-15 and increased to over 22 knots by the 4:00 sail. We were lucky enough to have a 4.5 hour private charter for a day outing on the bay. We put just under 40 miles on the boat in just this cruise.
We sailed under the Bay Bridge all the way to the top of Love Point on Kent Island. Then we tacked around past Sandy Point Lighthouse, back under the Bay Bridge and tacked our way to Thomas Point Lighthouse. Gybing back to Annapolis it was great to see the over 100 year old skipjack, Stanley Norman, sailing fast in the terrific breeze.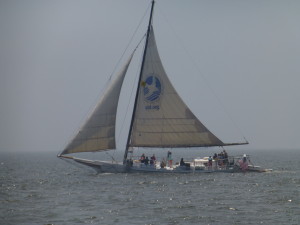 On the 4:00 sail, the wind picked up even more and we sailed across the Bay with only 2 sails. On the way back, we talked strategy for the Wednesday Night Race that we would be competing in upon our return to dock. The guests were so involved in listening to our strategy session, that they wanted to come back and sail with us for the race, and help us win. Of the 11 people aboard, 9 sailed with us again. That's how great of a day it was out there!! And our magnificent crew!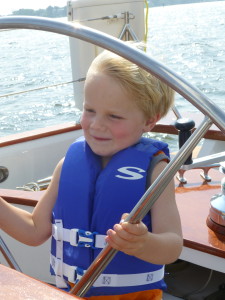 The four and a half year old Lucas, on our 4:00 sail was an excellent crew member. he got the most friendly award for that cruise.
Race time… we board our new guests for the race, and put up 3 sails and we were on our way. Ken got a terrific start and was in the lead for half of the first leg of the race. To find out more about the racing…. click here to our Facebook page that has the play-by-play.