The cruise we had today was the re-named Blue Angels Cruise.  After the Blue Angels were canceled due to sequestration, we had many people signed up for this cruise. We changed the theme to a Lighthouse Cruise and asked them what they wanted to do, and many wanted to stay on the cruise. So, we asked our favorite lighthouse historian aboard to treat guests with her local and lighthouse knowledge. We had about 25 people aboard.
Meg Govan, from the Annapolis Maritime Museum, came prepared with historical stories, old photographs, insight into Thomas Point Lighthouse from the inside and much more.
The day started a little dreary with overcast, gray skies and a nice breeze blowing from the southwest. We sailed down to Thomas Point Light within the first hour. After getting real close we motored to the Bay Bridge to see Sandy Point Lighthouse.
As we reached Sandy Point Lighthouse, the sun came out and it became the most delightful day out. Clear blue skies with a nice breeze. I must say, Sandy Point Lighthouse looks pretty shabby.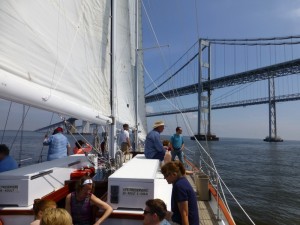 We headed back into the breeze and sailed under the Bay Bridge and most of the way back to Annapolis Harbor. A beautiful day was had by all. It was great having one of the parents of a midshipman helm the boat back from the Bridge. He grew up sailing on Buzzard Bay and we had fun trading sailing stories the whole way back.
Our second trip, a private event, had the best sailing of the day. We made it under the bridge and back completely under sail in 70 degree temperatures.