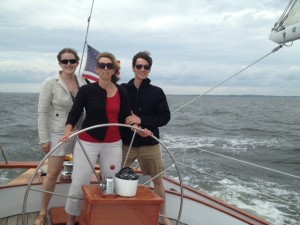 The title is somewhat misleading.  During our 1:30 cruise we had Hannah and her guests.  In the evening we had the duo, Roadside Show sing for our guests.
Hannah worked for us several years ago and just recently got married to Abraham.  She and her extended family joined us sailing this Wednesday.  In the photo is Abraham, his Mom, Ann (at the helm) and Hannah.  Hannah and Abraham are going to work on the schooner Alabama in Martha's Vineyard, MA.  We wish the newly weds the very best.
Rob and Randy entertained our guests.  We had a large group of seniors from Oswayo Valley High School celebrating their graduation (Congratulations!) as well as other guests.  This young man took the challenge to sail the boat and did quite well.