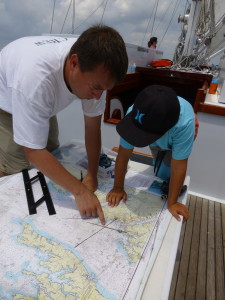 We had such a nice, small cruise on the 11:00 sail on Monday. Our crew member Frank wanted to show the kids aboard how to navigate by using a chart. Hayden, was very intrigued by the entire process. Frank showed him how to triangulate a position using lines of position and how to use a hand bearing compass. Hayden was with his grandparents for 10 days on a Mid-Atlantic tour.
On the 1:30 sail, we had a private team building cruise with Altitude Marketing. This company has sailed with us before and use this cruise to help build their team, but to also learn how to communicate better and learn leadership techniques all while having fun. They write a blog on the experience and how you can take the analogy of sailing back to the workplace. I can't wait to read this year's recap.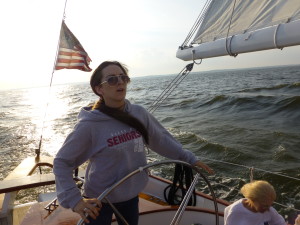 The sunset sail was a blast, and the wind was amazing. We screamed across the Bay at ten knots. We had a church choir from Bethlehem, PA aboard. And Molly, from Spinsheet Magazine, was aboard talking about the history of sailing in Annapolis and about the many yacht clubs in the area.