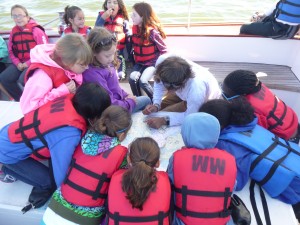 Our first cruise was a Junior Girl Scout Program where we teach the girls how to sail the boat and work as a team on the Schooner Woodwind. The first lesson for them to learn was how to communicate. Picture all the girls learning the commands and nautical terms for sailing. We had them split off into 4 separate groups learning sail trim of 2 different sails, navigation and helming.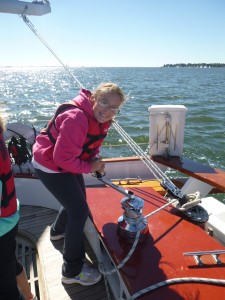 Every girl got to steer. And we had a bunch of traffic out there! It was the Classic Wooden Boat Regatta sailing all around us in the Severn River that kept the girls constantly giving commands to tack or gybe.  Great educational cruise.
Second cruise was the European Wine Tasting Cruise. Another great day to be on the water. Winds were flukey and inconsistent, but the temps were in the low 70s and the sun felt so good on the skin. (Normally, us captains are hiding from the sun.)  Howard was our leader into the world of European Wines. We had a dry Riesling from Germany,  Gruner Veltliner from Austria, Primativo from Italy and a Rioja from Spain.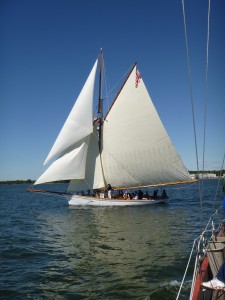 During the sail, the Wooden Boat Regatta was still in process.  Elf is an 1888 Lawley-built (Boston) '30-footer' class cutter was racing with Bull and Bear (the 2 sandbaggers sailing vessels) and many other historic, lovely classic yachts!  It was so great to see these boats with all of their sails up!
The food was amazing, as always! Great sail, great guests and great weather.
Our sunset sail was a private event for the Annapolis Maritime Museum. Beautiful fall sail out to the Bay. Our snuggly stadium blankets were a big hit on this cruise! Thanks to the Annapolis Maritime Museum for the terrific museum, grounds and educational experiences for the youth in our community!