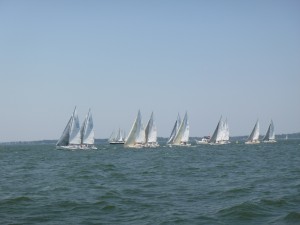 Today we had a fun-packed schedule of sailing cruises. And it was so nice that the wind wanted to contribute to the day! Our first cruise, we were asked to be a spectator boat for the Hospice Cup. A regatta to fund raise for 3 different Hospice programs in the area. We had the Montgomery Hospice aboard our boat. They were excited to see all of the racing and also take part in the sailing! In the past, they have been on a power boat watching all of the racing, but when they were sailing on the Woodwind, they said they felt like they were part of the action! Hopefully, they will continue to use us. It was fun!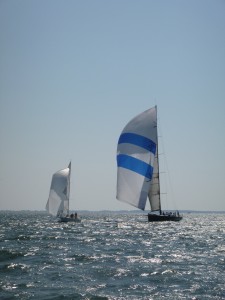 The racing was great to see with the wind blowing just over 15 knots. We got to track the full race of the J-105 race. This was race #2 of the 3 race series. It was fun to see the start the mark rounding, and then the finish. It was also amazing to see the 80+ foot, Donnybrook Race Boat, overshadow the entire fleet with heir gynormous spinnaker.  It's better to tell the story with some great photos.
We made it under the bridge and back on both public cruises of the day!
On our sunset sail, we had many great folks aboard! Lots of birthdays, celebrations and a gorgeous sunset sail. We could see it raining elsewhere in Maryland, but not on us in the Bay!