We had 3 great sails today. The winds were a little fluky in the river in the morning but by the last 2 sails it had settled down to a steady direction from the north and the sailing was fantastic. We had fun people out all day. The group sizes are getting a little smaller as the season winds down but that's okay . Sometimes it's nice not to have to try and be heard all the way up to the front of the boat.
Our 1st sail had 10 guest aboard. There was a family of 4 visiting from Minnesota. They had been down to attend a relatives wedding over on the eastern shore. We also had a local couple from Annapolis celebrating their anniversary today. They said they have lived here awhile but had never been out on the Woodwind and wanted to try something different today. (Happy Anniversary!).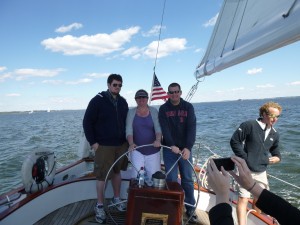 Our 2nd sail was equally as good as the 1st. We had a young lady aboard from Colorado Springs, CO who was on an adventure. She was starting a new job soon and took off for a 10 day trip driving around the eastern United States on her own before winding up at her new job destination. Her whole trip sounded fascinating. Part of her adventure included taking the helm of the Woodwind today. Good luck at your new job Lauren!!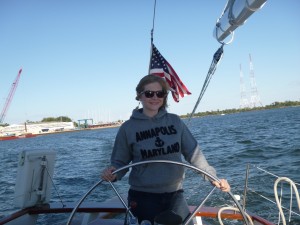 Our sunset sail today was our last History Monday for the season. If you didn't join us then you missed out on a special trip. Diane Rey, a newspaper columnist for the Capitol, portrayed Anne Catherine Green, the 18th century printer of the Maryland Gazette. we learned about her life and the newspaper business during that time period. Thank you Diane for your wonderful presentation. It was very informative and engaging.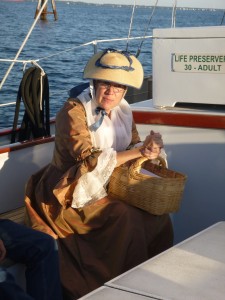 And as always the sunset was amazing. Our 7 guest were treated to another fantastic sunset over the town of Annapolis. And to the Hendersons who were out celebrating their anniversary as well with us this evening we all wish you Happy Anniversary!
Thank you everyone for sailing with us today and we'll see you again soon!