Today, we had a private charter book us for a 3 hour cruise. No… not the Gilligan's theme song.  They were 5 minutes late, so no need to sing.
Anyway, they all were teachers in a private school and wanted to relax before the first day of school on Monday. Relax they did. With very light breezes bringing us into the Bay completely under sail, they enjoyed the peacefulness of a light air day.
My favorite line of the whole trip, " A cruise like this makes us interact with each other and get to know each other socially. Last year we went to a casino, and everyone hung out in smaller groups. This was great!"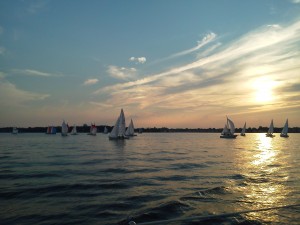 And then, after work, I had a small group of neighbors sail on the other Woodwind with Captain Mickey. So, I decided to join them since there was an extra spot.  What a beautiful sunset!