And that is exactly how the  day was. It was an adventure all day long. And everyone that came out with us today had the true adventurer spirit. Despite the rain, which wasn't to bad, the wind was awesome and made the sailing exhilarating. With winds exceeding 20+ knots sometimes the boat was flying.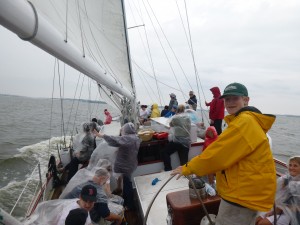 We only did 3 sails today starting at the 1:30 sail and continuing on from there. The 1st sail was great. We started with 3 sails but ended up putting the Fisherman up for our return journey from the bay. That would be the last time we used it for the day. The winds continued to pick up as the day went on.
On our 2nd sail we used only the main and jib for the first half of the trip then we ended up putting up the stay sail for the last half of the trip. We were on a beam reach doing 10+ knots and throwing up a wake a ski boat would have been proud of(yee  hah)!!!
The rain let up for our sunset sail and we were treated to some great color up in the clouds as the sun went down. We started the sunset out with a double reef in the main and just the jib and headed on out to the bay. The winds started to lighten about half way through the trip and we put the stay sail up. We sailed back up under the Naval Academy bridge and ended up shaking the reefs out of the main for the remainder of the trip.
As it is starting to get dark earlier in the evening now it is fun to sail in with the lights of the city guiding the way. It is a neat change. Going out when it's light and returning after dark. It gives you a different perspective of Annapolis.
I want to Thank my crew for some really professional crew work on this blustery day. They also made the day fun for all our adventurous customers today. Thank you Don, Nathan and Glenn for all your hard work today. And thanks to Desiree from NJ for helping me out with my timing tonight…