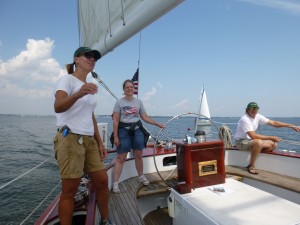 Claudette from Phoenix is our newest sailing junkie. After dropping her daughter off to school and having some free time on her hands she came out sailing with us today. Letting us know that she wanted to take sailing lessons we put her in charge of the boat right away.
After Rena explained the number one rule , that it is a race any time there is a boat in front of you she promptly passed the sailboat in the picture, with a little help from Glenn!
Good luck with your sailing lessons and we will see you the next time you visit your daughter.
The winds were light again today but we managed to make it through 3 sails without having to use the motor(yeah).
On our sunset sail we had a fun visit from one of our good friends and old crew member Sarah. We miss you and hope you've had a great summer. Sarah went to Maine to work with and Outward Bound Program and is now on her way to Alaska for a new adventure. It was great to see you and meet your family and good luck in Alaska. I hope you packed lots of long johns….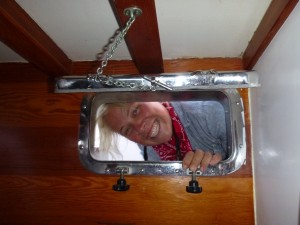 Unfortunately we used up all the wind during the day and we ended up motoring for the entire sunset sail. We did try at a few points and we did a little drifting…It sure was quiet, but to no avail. We were treated to another great Annapolis sunset though! (Thanks)