What a terrific day! I love the wine tastings we do on the Schooner Woodwind!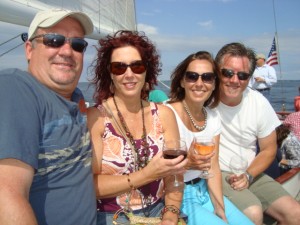 French Wines were the theme today, each "Wine in the Wind" has a different theme. Franck Agostino was the host today. And he knows wine. His job is the coolest job, I might add. He is from France and he is passionate about wine, like I am passionate about sailing. His job is to find the wines that he thinks Americans want to drink. He visits the wineries and chooses his favorites to sell in America. He even helps some winemakers blend their wines. He then sells them here in the U.S.. He also lives in Annapolis part time. Lucky us!
So today, we sailed in the middle of the Bay all around the anchored freighters as we learned about French wines. He brought 3 from the Bordeaux region (white, rose and red) and 1 from the Cotes du Rhone region. Everyone loved the wine, the food pairings, and the sailing with Franck.
Here's what we had:
Special Pairings
Semi Soft Figs filled w/ chevre and chopped pistachios (Rose)
Chicken Liver Pate on Crustini  (Cotes du Rhone Villages)
New Smokey Salmon Flake on Brown Bread Baguette (White)
Tarragon Chicken and Potato Lyonnaise Skewers (Red Bordeaux)
Buffet
French Cheeses (Triple Creme Brie, Roquefort Blue, Boucheron) Crusty Breads, & Strawberry Coulis
Classic Salad Nicoise with French Green Beans, Hard Cooked Eggs, Albacore Tuna & Pear Tomatoes

Open Faced Steak au Poivre on Crostini
Tickets are still on sale for our September Wine in the Wind featuring European Wines. We are sold out for August.