It was a rainy Saturday.  Everyone is calling, "are you still going sailing, even in the rain"? Yes, we sail rain or shine. Ponchos were handed out to everyone and the rustle of poncho plastic made each sail unique.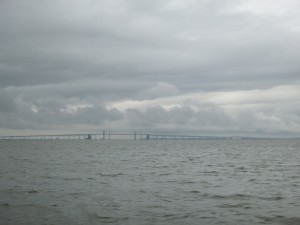 We had wind, a nice breeze from the NE that had us doing about 8-9 knots. We weren't hot, we didn't have sunscreen melting in our eyes, and we were not sweating. It was a great day, actually.
Aboard the Woodwind II, we had pleasant people. And most of the folks who wanted to actually sail the boat, had a nice long turn at the helm. Most of the daring individuals that took a turn sailing, were kids. Their smiles were so big when they realized they were REALLY sailing the boat. I can't wait to see the photos from the parents who send them in to our photo contest.
On our 4:00 sail, we had a private event for a 40th Birthday. He celebrated his 30th aboard, and plans to celebrate his 50th, too. All of the kids were fighting over who was going to steer the Woodwind.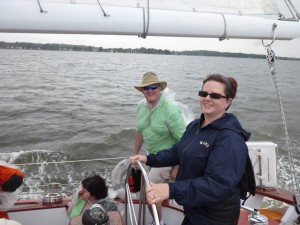 On our sunset sail, we had a group of 24 people come to celebrate the 5th anniversary of a couple's wedding aboard the Woodwind. They had a blast sailing the boat!  Great, enthusiastic bunch of people from Cincinnati, OH. They all came by private sleeper car and dome car on the train, too. Fun people! Fun day, although a bit soggy.