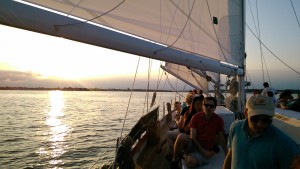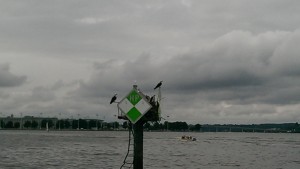 Can you really ask Mother Nature to provide you with wind if you offer up a boat full of people doing the Wind Dance?
Our first cruise we had a great family reunion of the Court Family.  Many of them sailed the boat and enjoyed the time at the helm- including the little ones. The wind was slow when we had to turn around and head back for home, so we had to spend some time motoring.
For the second cruise, the wind was even less and we showed them Back Creek plus we were lucky enough to see all three chicks from George and Martha on the "HP" marker.
The third cruise, the wind was blowing enough to grab $20 out of someone's hand and into the Chesapeake Bay when paying for a beer. Glenn shouted, money overboard. Without even asking how much, I thought I saw it in the small bubbles trailing the boat. I yelled back, "we are gybing, I see the money".  After one gybe, I thought I saw the bill in the water. I told Glenn to look in front of the boat. He yelled back to hold my course, and he swooped into the water with the crab net and comes up with the $20 bill. WOW! We were all amazed.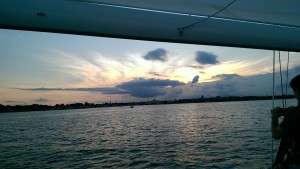 On the fourth cruise, I figured I needed to give Mother Nature what she was looking for … a wonderful wind dance. I asked all 32 people to stand up (as I waited for traffic to clear the alley way) and Glenn, Josh and I started the wind dance. Everyone followed suit! Everyone believed… and we had over 7 knots of breeze the whole trip. We got to R2 in the middle of the Bay and back. I turned the engine on for the last minute of the cruise. The Wind Dance is a fact if you believe. What does the Bud Light commercial say? "It's only weird if it doesn't work!"  Play the Video of the Wind Dance