The boat was full most of the day and it felt like we were operating on a Saturday or Sunday.
FUN…Lots of people and good sailing to boot.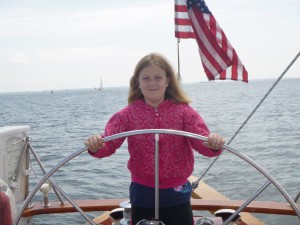 Erinn and her grandfather came out for a sail today and this was her training run. Erinn's grandfather operates a couple of ships in the Caribbean and she is looking forward to coming down to visit and help out on the ships.
I think she is ready…good job!!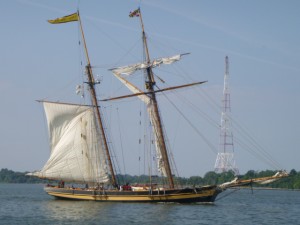 The Pride of Baltimore II sailed into Annapolis today and promptly turned right around and went out for a sail. We enjoyed the view as she sailed down the bay to Annapolis and as she set her sails later.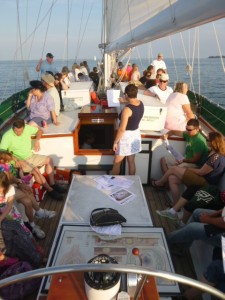 As everyone knows Mondays are history nights and our speaker this evening was Dr. Mechelle Kerns. Dr Kerns spoke about a couple of the forts that were built to protect the Severn river and the harbor. Fort Severn(where the Naval Academy now sits) and Fort Madison(behind the marina where the YP's are kept).
Thank you for all the history it was very interesting.
And to top it all off we had a fantastic sunset…..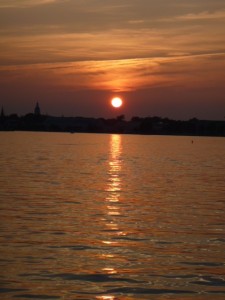 Till the next trip….Capt. Mickey