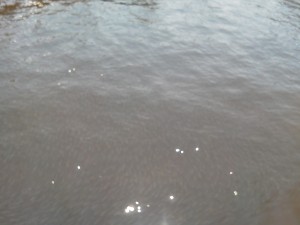 As I walked down the dock this morning, schools of fish were everywhere. They were schooling in the most gorgeous way. This was so mesmerizing.
It was a nice pleasant day on the water. Most of the boat traffic was from the 10 sailing camps on the Severn River. I may be exaggerating a little bit, but when you add in the plebes learning how to sail, I think there may be 10 small fleets of dinghys out there learning to sail or race. Good to see, as I am always recruiting for new crew. Light breezes sailed us to the middle of the Bay.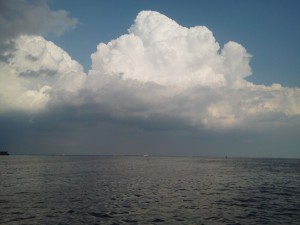 The clouds were growing around us, it was amazing.
On the last cruise, the wind finally picked up. This is what we were waiting for! 20-25 knot breezes from the North. I decided upon just 2 sails and we were flying over 9 knots! We got a bunch of folks at the helm. They were in love. The boat was healing over comfortably, but with excitement.
There were Lasers (small, one person dinghys) racing in the Tuesday night one design regatta from Severn Sailing Association and the guy in front was working for that first place win.
There were gutters of rain falling from the sky all around us. We sailed in between all these raindrops. It was pretty neat. I sailed up the Severn a little and noticed more rain there. I started to head into the harbor in case the rain turned into a storm. Then, the wall of rain came down the Severn River. Out came the ponchos for the guests and I called for sails down. We motored back to the dock early, from the cruise. Everyone got their excitement for the day! And the lawns got their rain.  Why couldn't it have waited 1 more hour?