Last night's cold front brought a cool NE breeze for the day.  The reduction in humidity allowed us great views of Thomas Point Light House, the mouth of the West River, Poplar Island, and Bloody Point Light.  We even heard the Buyboat Mister Jim on the VHF radio, calling from St. Michael's.
For our first sail, we had guest helmsman Aramis steer for the majority of the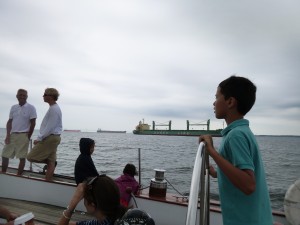 sail.  We talked about how sails were similar to airplane wings.  We also checked out some of the cargo ships anchored on the Bay.  He asked me if we could board the nearby sugarcane cargo boat, he was interested in commandeering the sweet stuff!  We discussed it, and I'm glad he decided it would be more fun to keep sailing.  After some quiet contemplation on the helm, Aramis said "I think, when I'm older, I will drive a boat."   This made my day!
On our second sail, we had Roland and Rita aboard, celebrating their 40th wedding anniversary.  They took the helm, piloting us south past the '1AH' mark.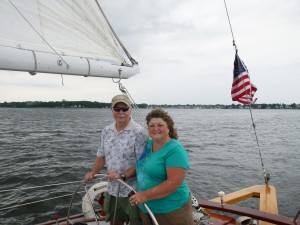 Nate, one of our crew, spotted a young osprey in the mark's nest.  It was learning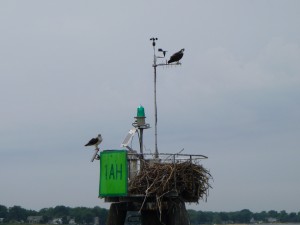 to fly! It stood stationary, flapping it's wings, trying to develop the right motion.  Fascinating!