All everyone was talking about was the heat… on Sunday, we were talking about the breeze. We had a nice breeze pick up from the NE.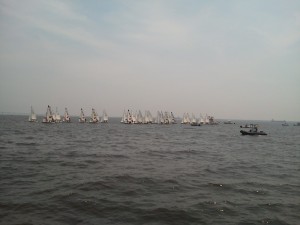 First cruise, we were able to sail around the US Junior Sailing Olympics. They had 3 different fleets out in the Chesapeake Bay. They had Lasers, 420's and Optimist Dinghies.  We were able to catch the start of the 20-30 boat fleet of 420's. The committee boat was the favored end and it was fun to see how all the juniors were bunched up there. Great racing!
The second cruise of the day, we were able to sail across the Bay since the wind picked up.  Guests really enjoyed taking the helm.
On the third cruise, we kept a look out for storms forming in the area. We started out for the Bay and then sailed under the Rt. 450 bridge to be close to the dock in case any of the storms made a turn for Annapolis. We were lucky that none did and we had a delightful sail.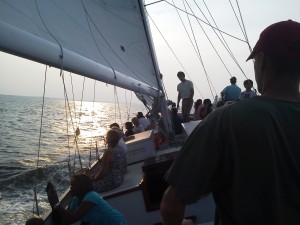 The sunset sail had the best breeze and we quickly sailed across the Bay to Kent Island exceeding 10 knots.  When we tacked around, a beautiful course was set as we sailed back into the sun's path. Terrific sailing!
We had a great apprentice aboard named Brendan who wanted to do everything he could aboard. At the end of the cruise he listed all of his accomplishments: raised 2 sails, learned 2 knots, steered the Woodwind, and learned how to find where the wind was coming from. We made him apprentice because of his enthusiasm for learning.