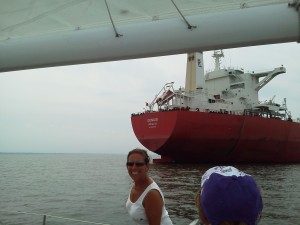 Our first cruise of the day, 11:00 sail, we had a light breeze from the North that allowed us to sail at around 5 knots of boat speed, out into the middle of the Bay, into the shipping channel and back. We saw a bunch of anchored ships. One named "Genius" (funny name for a freighter). We had a bunch of kids aboard ranging from twins that were 4, to Hannah that was 7. These kids had me laughing!
The twins took turns at the helm with semi-interest. Then, their older brother Charlie took the helm, a whopping 6 year old, curly, blonde haired boy. He was a talker. I told him sailing the boat was like steering a car. He said ok and "I've steered a car before." Then he said, "and I like beer". Hmmmm. I take the bait, "what kind of beer do you like, Charlie?" He takes his eyes off where he is steering and says without cracking a smile, "The Penn Pilsner." I'm thinking, what is going on here? "Do you drink this beer often?" "Yep, my Dad makes it." And there it was… the golden answer. His Dad was the brew master at Penn Brewery. I asked if he wanted to  be a brew master when he got older. "No, I want to make Hollywood movies. I've done some movie trailers, I like disaster films. I'm working on a tornado disaster movie… and it is going to be in the movies some day. It ends real bad, it is a disaster movie…" And on he went. It was amazing to listen to this boy ramble.
Let's not leave out Hannah. She got to tack the boat.  I figured out how to take a movie of her doing the tack with her camera (she did not know it took video). I hope her grandparents send in the video. They were so thrilled with the entire experience!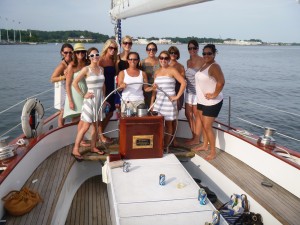 And then there was the teacher phenomena aboard the boat. We had 10 ladies celebrating high scores they got from their PA Board of Education. They decided to stay in Annapolis overnight, go sailing and relax before the summer season. On the sunset sail, we had at least 5 teachers aboard including 2 music teachers and one history teacher. They must all be trying to get in their summer fun before school starts soon.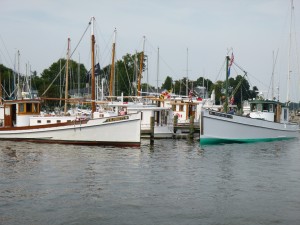 I guess I may have Charlie's rambling technique. But it was a cool day. We saw the Chesapeake Buy Boat Rendezvous at the Annapolis Maritime Museum. I think I counted 9 of them. These are the boats that would buy all the oysters from the Skipjacks and then sell them at a profit on land. It would allow the Skipjacks to stay out longer and get paid more quickly for their catch. More photos here on our Facebook Page.
And on the sunset sail, we were treated to the most spectacular cloud formations and sunset. More photos here on our Facebook Page.