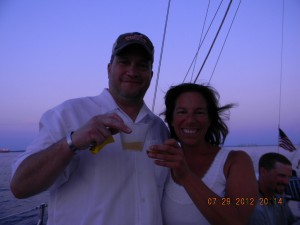 Captain Ken wanted to sail so Jennifer got to enjoy time with the passengers.
Photo by dave pierce of centreville, va
This photo was entered into our photo contest, but I think it deserves it's own blog. (I published 2 of his photo contest entries already.)
Dave and his wife came from Virginia to go on our "Local Everything" Dinner Cruise.  They heard about it from Catoctin Creek's newsletter, because this distillery was the featured spirit maker aboard this cruise.
After they signed up, Dave told a group of people that he has been reading the Captain's Blog every day to get a good feel of how the cruise might be. His wife chimed in and said something like, he's been reading them to me too. As he's telling this group of people, which I am in, he tells some of the stories he has read about. I ask if he minds the grammar issues. He said he thinks it is more personal that way.
He then admits that he really likes reading the "lady" captain's blog. I turn red. My group of friends giggle. And then I wave, and fess up that its me. His wife smiles and says, "yes, you can get your picture taken with her!". That's where this photo originated from.
It was a terrific night of sailing, wine, spirits and food. But I think the best part was realizing that people really do read these blogs. It was so nice to hear. Comment on them if you like. It helps us make them fresh each day!
Thanks Dave!! Hope to see you all soon.