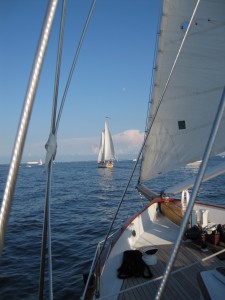 Captain Jen and I love food.  Jen is, admittedly, an avid foodie.  So when I saw the Everything Local Cruise, I had to plead my case to be captain.  She came up with the perfect solution.  I would captain and she would be the hostess, even though officially she was "off".  The idea worked perfectly.
Tracy from Black Ankle (Mount Airy), Scott from Catoctin Creek (Loudoun County, VA) Organic Spirits and Amy Daniels from Palette Pleasers did an excellent job giving an overview to the foods and beverages offered.  They gave the guests a perspective that enhanced the experience by telling them what to expect in such a way as to make us linger over the food and drink.
I am so tempted to just list the menu and go from there.  Let me just say the words "Smoked Paprika Rubbed Rockfish on sweet onion relish" and "Quinoa Tabbouleh w/ heirloom tomatoes".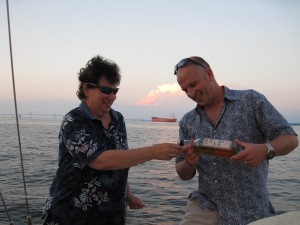 Black Ankle Vineyards brought their Viognier (White), which was a perfect accompaniment.  Their "Rolling Hills" red blend was a big success.
I know little about hard liquor and so when I found the un-aged clear whiskey (legal moonshine) mixed with maple syrup and other ingredients become a refreshing cocktail, in the cockpit (don't worry, after the cruise was over and my job done), I was impressed.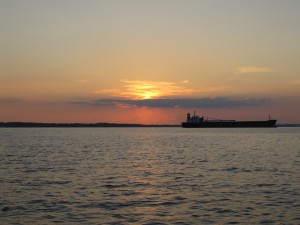 Flying Dog (Frederick)  and Heavy Seas (Baltimore) had their beers represented as well.
The evening was made perfect by the light breeze that allowed us to ghost along.  Woodwind II is amazingly agile in such a light breeze as many of our guests who took the helm will tell you.  Thank you, crew, for making it happen.