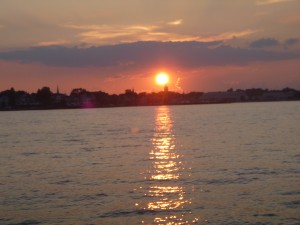 We had great sailing conditions all day. The weather forecasting a chance of rain and light winds. We had no rain and the winds were in the 5 to 8 knot range most of the day. With the temperature topped out at 84 degrees it was a delightful day of sailing.
And the people agreed. We started out our 1st sail of the day with 48 guests aboard and were full almost all day. Everyone wanted to get out on the water and enjoy this beautiful day.
We entertained many frequent sailors today. Thanks for the repeat business you picked a great day for a sail. One of our crew members wife and daughter snuck aboard to enjoy the day.It was very nice to meet them.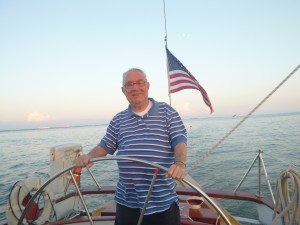 Father Al Olive from St. Mary's church in Annapolis joined us on our sunset sail. He looks like a natural at the helm. It turns out Father Olive is from French Town St. Thomas ,USVI. After living in St. Thomas for 24 years we had many friends and places in common to talk about. It was a pleasure having you aboard and thanks for all the fun memories of the islands.
The sunset sail was a little lighter on the wind side but we managed to eek through w/o having to run the motor more than a few minutes and we were treated to another one of those gorgeous sunset views from from the boat.