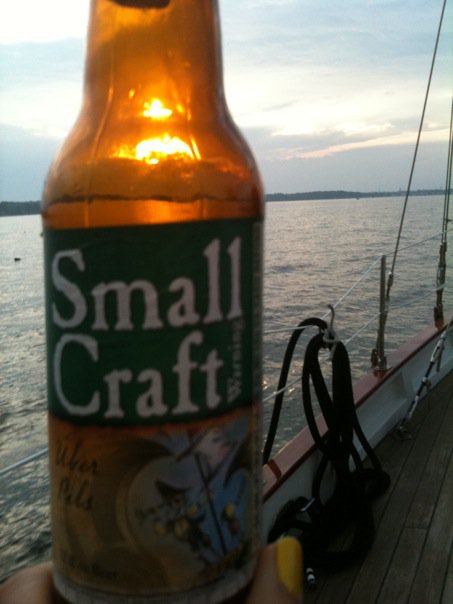 The only sail that we had today was a private event for the Heavy Seas Brewery! It was a sunset sail with full dinner and dessert. Sounds perfect… add in a Small Craft Advisory into the weather, and this makes it even more fun.
As Hugh (owner of brewery) boarded the Woodwind, we joked how the weather forecast ironically had put a Small Craft Advisory out for the time we were sailing. The ironic part, is that we carry the Heavy Seas beer called Small Craft Warning aboard every cruise we sail on. Hugh and his team have brewed this beer for at least 5-6 years and the guests (and crew) love it!
A Small Craft Advisory means that wind speeds of 18 to 33 knots are expected to produce hazardous wave conditions to small craft. Inexperienced mariners… especially those operating smaller vessels should avoid navigating in these conditions.  (It used to be called a Warning not an Advisory, one day they reduced the severity of this.)
Pretty clever name for a beer since that beer has just over 7% alcohol by volume in one bottle. Not for the inexperienced, I guess. Or as our crew says, "packs a punch, like 2 beers in one."
Back to the cruise… it was terrific,  very nice wind (15-20 knots) and we rocketed across the Bay! Many, many people took a turn at the helm and loved it.
Thank you Heavy Seas for making the wonderful beer that you do! (And having stellar employees!)