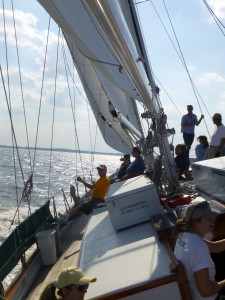 Pretty lucky weather we are having here in Maryland. We have had cool, dry conditions for the past 3-4 days and it has been gorgeous. We started the day with a private charter that had enough breeze to get under the Bay Bridge and back… well sort of. The wind died and changed direction a little as we sailed in, so I had to motor the last 15 minutes of the cruise. On a weekday, that is a big deal, because us captains love to sail right in the harbor.
On the second cruise of the day, the wind picked up to be about 10-20 knots. I was so tempted to go under the bridge again, but for fear of being late, I turned just before the bridge. On this cruise, the wind picked up near 20 as we entered the Severn River, and I took down the fisherman as we tacked up the river.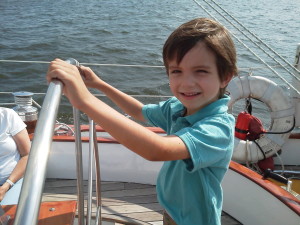 We had a couple of birthdays aboard. Most notably on the cruise was Caden. He came with his mom and grandparents, and his younger brother Trevor. They were adorable. It was pretty neat, the mom said she wanted pictures of the boys so that she could take another photo in a couple of years, just like a previous blog of mine and Facebook Post. I am amazed people read these blogs! Well we got photos of them.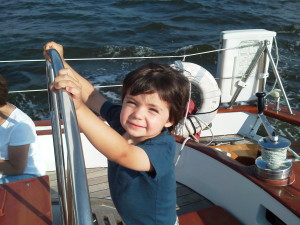 The last cruise was a magical, music cruise. We had Don Shappelle singing his Bay songs and ditties. I love when he performs because he gives out instruments for all to play. He had his shaker eggs, his maracas, tambourine and some wooden hollow sticks (I have no idea what they are called- feel free to chime in). Anyway, people loved playing them. Especially this group of musicians that were sitting with me in the cockpit. They were a bunch of retired Navy Band players, they did it for over 25 years.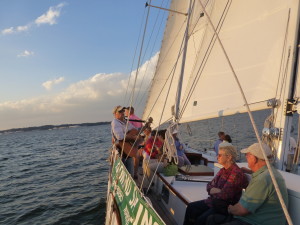 We had the most perfect sunset! And to add to the sunset we had cool temps, nice breezes and great folks aboard. Loved the last song which was all about the Bay's towns, rivers, seaports and more set to the song that goes something like, "I've been everywhere, man… I've been everywhere" -Great rendition, I know. You'll all have to come and witness for yourself!