What a nice day to be on the water. The winds were from the NE at 8-10 knots and the temperature was in the low 70's.
Beautiful! We had some great conditions and great people.
Tom and his wife Pat were up from Phoenix and were enjoying the cool weather. They both love sailing and have some relatives in the San Francisco bay area and do a little sailing there as well.
It was a pleasure having you aboard!!
Woodwind II gave us a little fly by in the afternoon and a big ahoy from all the girl scouts they were carrying(ahoy!!).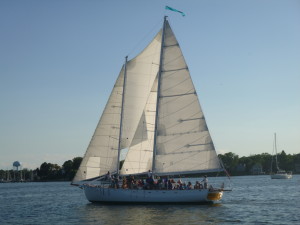 The sunset sail was fantastic. And everyone knew this because the boat was at full capacity. The winds were nice and light and it was a very relaxing evening on the water.
And the sunset over town was as good as it gets!!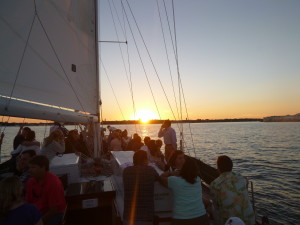 It was a pleasure to meet everyone today and I am looking forward to meeting tons of new folks this weekend.
Capt. Mickey          See you on the water!!