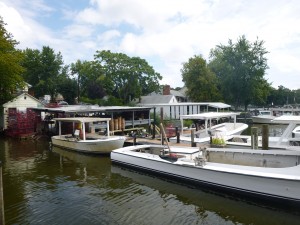 This morning, we rigged Woodwind II in a light rain.  Since we set our canvas awning for some shelter, the precipitation stopped!  This may have been some positive perversion of Murphy's law at work.
We made a Cantler's run today, a chartered sail to one of our favorite crab houses.  The guests, from a financial office, enjoyed the clearing weather and a relaxing cruise into the bay.  I imagine that they work in a fun place, they had no problem having a good time.
After striking sails off of Greenbury Point, we motored into Whitehall Bay and up beautiful Mill Creek.  Ahead of us were our friends from Baltimore, the crew of Ketch Pintita!  We caught up with these sailors over some rockfish sandwiches.
After lunch, we returned to the Annapolis harbor in mostly sunny skies and a fresh breeze!