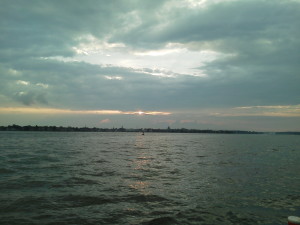 I wish I had my better camera aboard! So, if you were on this cruise, seeing this post, please send me some pics. Many of my pics came out blurry.
Local Everything…. what does that mean? To me, it means getting as much things locally sourced as you can and presenting it all on a wonderful dinner cruise while sailing on the Severn River and Chesapeake Bay.
Chef Amy Daniels from Palate Pleasers, in the Eastport section of Annapolis, and I came up with this menu in the spring time.
First Course:
Rockfish Cake with caper lemon sauce

Fire & Ice Cup (Watermelon and Tomato with local pepper dressing)
 Second Course:
Grilled Buttermilk Chive Chicken Breast with charred peach salsa

Smoked Duck Flatbread with sweet and tangy sauce

Silver Queen White Corn Salad with sweet onions

Roasted Red and Sweet Potatoes, Golden Beets, Fresh Green Bean Salad
 Dessert:
Strawberry Blueberry Shortcake with fresh whipped cream
We paired it all with Black Ankle Wines (Frederick County) and Catoctin Creek Spirits, and craft beer from Maryland and Virginia.
Everyone loved the cocktail that Emily, from Catoctin Creek, made up that had their Roundstone Rye, Peach Puree, Brown Sugar Simple Syrup and a wedge of lemon.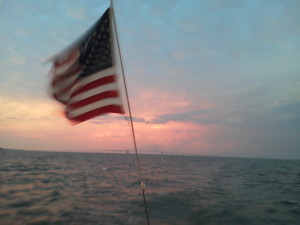 We were also the first venue to showcase the Gruner Vetliner from Black Ankle. Even the winery hasn't released it yet to their tasting room!  I loved learning that Black Ankle has over 2 acres, of the 15 acres, in the US growing this grape varietal.  Primarily it is a grape grown mostly in Austria.
The sailing was relaxing for the first half of the cruise. After dodging the storms (with only a few rain drops falling on us), we sailed into the Bay. The wind picked up to over 15 knots and we were rocketing along  just as dessert was being served.
The boat truly sailed wonderfully!  The guests were delighted with the food, the clouds, the drinks, the sailing, and the crew's ability to sail, serve and enjoy their job.