Pleasant temperatures and a light breeze make for a pleasant day.  This young couple takes the helm and our conversation turns to food.  They are from India, whose cuisine is one of my favorites.  Then our conversation turns to Pizza and other guests offer their favorites.  This makes everyone hungry, but fortunately we have some snacks, not gourmet, but good.
The kids decide they want to sail. Fortunately Charlotte is able to corral them together and keep the vessel on course.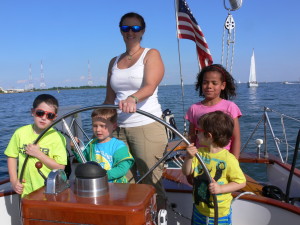 Actually, they were well behaved.  Thank you parents.
We are almost at the dock, when a huge power Yacht named Checkmate positions herself for docking.  I quip, "Rich or poor, it's nice to have money."  I much rather sail with our guests than be alone at the helm, even in the lap of luxury.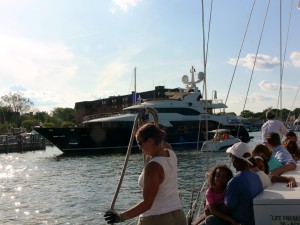 "When the idle poor, become the idle rich. You'll never know just who is who, or who is which." *
*Thanks to Yip Harburg, from the 1947 musical, Finian's Rainbow.