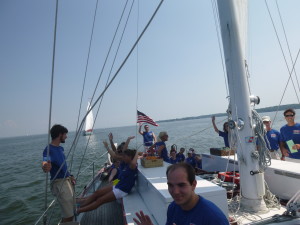 It has been hot these past days! There was a little wind today which made us have a nice day.
Our first cruise was a corporate team event where High's Convenience Stores chartered both Woodwinds for a Crew Match Race. We got our teams ready on the fisherman sail winches and our other stations. There was maybe 5 knots of wind when we started the race. It was an upwind start, and we (on Woodwind II) had a better line on the first mark. We had to tack a couple of times to make it due to the slower speeds and current drift.  Woodwind had to tack more times, and in light air that can be race changing. We sailed to victory on the Blue Team!!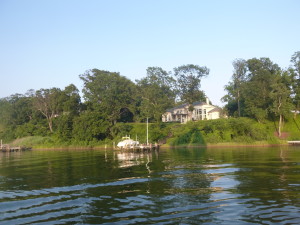 Our second cruise was filled with volunteers for the Annapolis and Anne Arundel Convention and Visitors Bureau. These are the folks that greet you at the visitor's center on West Street or City Dock. They told me that we were their favorite FAMILIARIZATION  tour and it booked up in less than a day! Some even added that it was the main reason they wanted to volunteer. These are the sweetest people!! And many have known my family for years! We sailed half the time and motored up the Severn a little.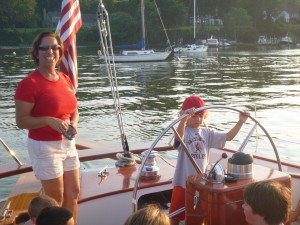 On the last sail, we were supposed to race in the Wednesday Night Races. There was no wind left for the day! We tried going up the Severn River and Weems Creek to find some, and to see if the wind filled in. No luck.
But everyone really enjoyed themselves considering the lack of racing and the temps. We made our own breeze with the motor on.