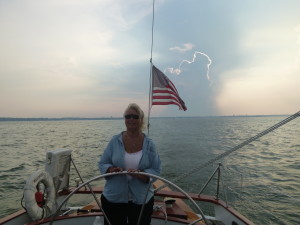 Everyone was amazed what a nice breeze could feel like on a hot summer day on the Chesapeake Bay.
We had a great private, corporate event on the first cruise. They loved the relaxing sail, and were anticipating the amazing crabs at Cantler's Crab House.
The second cruise was terrific, especially when four year old Zach spoke up. He loved saying ATTACK, instead of "tack", when you sail into the wind and the sails full on the other side. He also enjoyed telling me that the last time he sailed on the Woodwind, he didn't remember it. I asked him why not. He said, "I was in my mom's tummy!" Sooooo cute.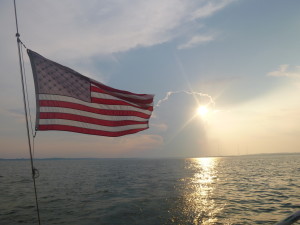 On the third cruise we had amazing clouds starting to form all around us. We had a girl scout group aboard from Richmond and Fredricksburg, VA.  Nice girls, they learned some nautical information about sailing and navigation.
On our sunset sail, we had a talented local musician who played aboard. Dirk Schwenk is his name and he rocked it!  A mix of originals and covers, he was super. The comment cards at the end of the night raved about him. I will book him more for next year! Great night, sunset and breeze all day. People were amazed how nice it was on the Bay.