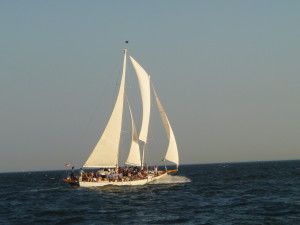 What a great weekend for sailing. We even got and extra day to play.  I had the day off on Saturday but the winds were blowing in the 20's all day. I raced the Annapolis to St. Michael's  race and our race boat hit 16 knots a few times on the way there. So I know the Woodwinds were having a great day.
I sailed all day Sunday and we still had a lot of the same winds left over from Sat. We sailed all of our sails fully booked and with only 3 sails up instead of all 4.
On our 1st sail we headed toward the Bay Bridge and were able to sail under and back in 2 hours. Awesome!! We had several frequent sailors out with us and some who have been sailing with us for 20 years, ever since the boat was built.WOW. Thank you for your patronage!!
Our 2nd sail we didn't quite make it as far but what was nice is that we had so many families out with us today that we got all the kids on the helm and gave them a chance to steer the boat.
On the sunset sail the winds lightened up some so the boat wasn't heeling over quite so far and made the sail much more enjoyable and relaxing so we could fully enjoy the spectacular sunset.
And did you see that moon rise over Eastport?
Thank you to all who sailed with us today you all picked a wonderful day to sail with us and we hope to see you all again!