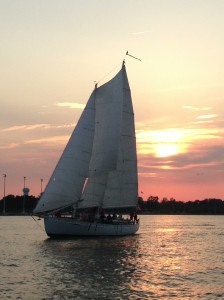 Another great day of sailing on the Chesapeake Bay is History.
Every Monday we have a guest visitor from Historic Annapolis that joins us for our sunset sail. Thank you to Author/photographer Roger Miller who joined us this week.Roger spoke about several historical sights in Annapolis that should be a must see for everyone while you are here.
Among those mentioned were The Naval Academy and The William Paca House.  We also had a wonderful evening of sailing.
We had several repeat guests from last memorial day who remembered each other from sailing together last year.(what fun!)
We celebrated birthdays all day. Out of 4 trips I think we had at least 10 people who were sailing with us on your bdays. Happy Birthday to all!