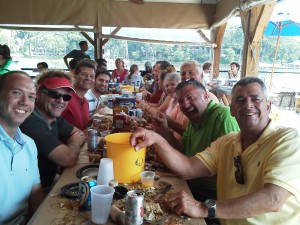 Quoting a line from Wedding Crashers to make it appropriate here… but it's so true!
We sailed to a crab-feast, the guests had plenty of beer, and then 2 Maryland Breweries battled it out on the racecourse to see who would take home the Brewer's Cup. All in a day's work.
The day started with some of the nicest people showing up at the docks eagerly awaiting their sail to Cantler's Crab House. The private charter was Choice Hotels. They have brands like the Sleep Inn, Clarion Hotel, Extended Stay, Econo Lodge and many more.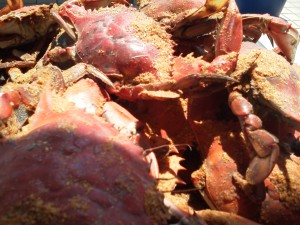 Last year we had so much wind, we got under the Bay Bridge and sailed into Cantler's in 2 hours. We drifted peacefully this year out into the middle of the Bay and then half way to Cantler's. I had to start the engine and motor the rest of the way.
All-you-can-eat Crabs was what they ordered, along with chicken, fries, coleslaw and corn. They were so sweet to invite the crew too. (Thanks, Cliff!!) We all dug in until we were messy. These folks love their crabs! But they also are a very genuine, tightly knit company that really likes to be together, so crab picking together was a perfect afternoon activity.
As we sailed home, they were already planning next year's annual event on the Schooner Woodwind.
Beer & Sailboat Racing:
Tonight we had the Maryland Brewer's Cup. This is where the Heavy Seas and Flying Dog breweries took to the water to have fun and race to see who would win race. Captain Mickey was with Flying Dog, and I was with Hugh Sisson and his gang from Heavy Seas. Both boats had a mix of brewery employees and fans of the beer.
The winds picked up to about 15 knots and we had some great speed. I was lucky to have good boat speed, exceptional fisherman sail handlers and wonderful boom holders. The guests really helped race the boat, I just kept steering the boat where it needed to go. We beat those Dogs. Thanks Heavy Seas for all of the help!  See play by play action here.